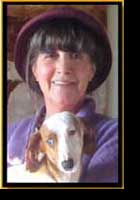 PRESIDENT
Margarita Dominguez
Over the years the example three women gave me modeled my life. Since when I was a little girl I admired Brigitte Bardot's love for animals and grew up dreaming to be like her.
At 20 years old I met my second idol, a beautifully sophisticated and lovely lady called, Dolly, who had an animal refuge in her magnificent mansion in front of the ocean. Although she saw me as the legacy for her animal rescue; unfortunately, I was still too young to spend the rest of my life in the farm she was planning to move to. After 2 years of completely devoting my life to rescuing, saving, healing, and taking care of animals I moved back to the city.
I was hired as a public relations representative in a very well known fish plant. However, what I did not know at the time was that outside the doors of the luxurious building where I worked another cruel reality awaiting for me.
The freezing plant had 600 underpaid workers, constant ammoniac leaks, ambulances coming in and out every day, and dozens of mistreated cats getting electrocuted by evil minds. Luckily for these feral cats, and for my agonizing heart, among the many people working in that gigantic enterprise were also the animal lovers, the veterinaries. Thanks to them I could complete one of the best missions of my life, spay and neuter all the cats in the plant. During three years during weekends and late nights, these wonderful beings put animals first before money and prestige. Although the fact that these veterinarians had young families waiting for them at home and that the plants' salaries were not the highest, their passion and commitment to the profession they had chosen came before anything else. The example they gave me has remained engraved on my heart forever. It constantly kindles my enthusiasm during the hard and sometimes unfair battles to save animals from abuse and neglect.
Therefore, after many years I moved to Quebec City where my mission continued in a different setting. Although the country were I was born, Uruguay, is like Texas, a meat producer and exporter; ironically, it was in Quebec where I started my fight to protect farm animals and the horses used in tourism industry. This new experience taught me that when people have to survive with little income during freezing winters, farm animals and pets are in general extremely neglected.
The horse-drawn carriage industry in Quebec City and Montreal had a devastating effect on me. How can it be that the suffering of an animal is considered romantic to some? I asked myself for fifteen years each time I saw them pass in front of me. Every day I saw these poor animals coming from very far away stables to put another 12 hours of walking on cemented roads under 32 degrees celsius and 99 % humidity. Every day I saw them going up and down hills with their heads collapsing down from exhaustion as they carried on among the smoke and noise of tourist buses and cars. Nevertheless, the city inspectors could not do anything about it because from the street level, it was impossible to get a good photograph for proof. The police needed proof for these acts of maltreatment committed by drivers like that they could request an update on very old bylaws.
Therefore, because the only way to get a good shot from inside the carriage was from above, I rented an apartment on an upper level where the carriages passed every day. Finally, I got a great shot! The picture and story of drivers carrying more than 4 adult at a time got published and a group protecting the horses' rights has taken over for me. My mission was accomplished and I was free to come to Sooke. My heart still bleeds today with this memory.
It was in BC, in 1998, where I met my third idol, Treinjia Horn, the Nana Foundation's first lady. Thanks to her unconditional love and devotion to animals I have been able to help many animals in our community. She is a real angel; her heart knows no greed neither a need for control. She always puts animals first. Without her help I would not have accomplished as much as I did and I would not be where I am today in regards to helping animals. I would not have been able to help Brew, Deene, Missy, and many other families. Nowadays, I dream and aspire to one day be like some of these admirable ladies who achieved to make a positive change in the lives of animals.
CLICK ON THE BUTTONS TO READ ARTICLES
I apologize for two of them only being in French.


---
DIRECTOR

Jocelyne Roy

I am a retired Registered Nurse with a career that spanned 45 years. I also am a lifelong pet owner whose compassionate nature has always drawn me to ease the suffering of any living creature. I can honestly say that my mother is the one who imparted to me with this love and respect for all creatures. I like to refer to her as the female version of ( St Francis of Assisi).My father also had a great love for our pets.

After resettling in Sooke from Toronto in 2011, I wanted to get involved in a volunteer work, having recently retired from nursing.There is so much opportunity in Sooke for getting involved.

I, accidentally, met Margarita Dominguez at a Rotary Fair last spring and learned about her mission with the Feral Cats. It did not take me long to know this was going to be my mission also. I quickly turned my attentions to the plight of feral and abandoned cats and dogs and joined SAFARS in their efforts to make a difference.
---
DIRECTOR

Kimberly Anderson

I first met Margarita over 12 years ago in an Anthropology class; besides becoming instant friends we discovered that we were neighbors.

Since that time I continued my studies to follow my passion, which is people, and received a Masters degree in clinical counselling.

I have always appreciated Margarita's passion for her causes and how she pours her heart into what she believes in. When Margarita asked me to become a director of a foundation to help protect and feed animals in need in our community I was thrilled to be able to help her with this one.

Most people know and many have experienced the preciousness of the unconditional love that our pets provide. I know people who will go to extreme measures for their pet. When times are tough they hear things like "if you only get rid of your dog you could find a place to live, or if you didn't have so many cats you would have enough money for food". Yes, this may be true, yet who are we to judge. What if owning this pet was the first time in a long time, or ever felt loved. So that brings me to ask myself how can I help you Margarita?

As a director I plan on supporting each of the other directors in their roles, and use my skills and talents to bring a voice of reason when needed, as well as a voice for the pet owner.
---
TREASURER

Dorothy Swityk

I have lived in Sooke for 14 years and work part-time at the Salvation Army Thrift Store. Since working at the store I have met many memorable, intelligent and interesting people including Margarita. Our mutual friend, Kim, first told me about her, and then when I met her I was so impressed with her warmth, passion, and hard work ethic. When she asked me to help with her animal foundation, I was happy to do whatever I could to help.

I had no idea at that time about the feral cat growing population problem or about many of the other pet problems existing nowadays in our area. Nevertheless, I have been definitely getting an education in these last months and I am now ready to start working in the field.

I have experienced the heartbreak of having to give up my pet when I moved from Alberta and it still hurts me years later. I am happy to be a part of this effort to help stop the suffering of animals and to assist the pet owners in our area to the best of our abilities.
---
VICE-PRESIDENT

Kai Yates

As the daughter of this charity's founder, I would like to personally welcome you to our website and thank you for taking a moment to read about our foundation.

I have been fortunate to have a mentor who has positively influenced me to assist those in need. Throughout my childhood, I watched in awe as my mother passionately raised awareness about the horse-drawn carriage industry, domestic animal abuse and farm animal maltreatment.

I clearly remember the day, at a mere 15 years of age, when I embarked on my own journey into speaking up for animals. It was my very first week in a new high school and our former Governor General of Canada, Michaelle Jean, was offering a question and answer opportunity. I can still feel the reluctance and excitement of reciting the speech that my mother had prepared for me in regards to Canada's farm animals' rights. The response I had received was more than inadequate and it was then when I decided that someone should have the best interest of animals in our country.

Since then I have spent my time studying Biology in pursuit of a veterinary degree, attending animal rights' protests, spreading the word about the benefits of a vegetarian and vegan lifestyle; volunteering for the World Wildlife Fund (WWF), the Society for the Prevention of Cruelty to Animals (SPCA-Victoria Branch), the Saseenos veterinary clinic, and many other organizations.

After many years of learning useful skills through my education and community leadership experience, I would like nothing more than to bring to life the vision of SAFARS. We live in a beautiful country with more than enough resources to put an end to the neglect of the animals living around us.

I look forward to meeting you and having you make a difference for animals!
---
DIRECTOR

Garnet Zethof

We met Garnet when he was in elementary school and we have always loved him. Over the years we saw him grow as a very honest young man who respects and honors his family's Dutch-Canadian moral values.

During the comes and goes of life we lost sight of him for a couple of years. We had heard that he had fallen in love and that in order to provide for his new family he had to leave behind his passion for art.

It was last summer when we knew he was back in town. However, when we saw him he was not alone anymore, on his shoulders he was carrying the fruit of his lost love, Phoenix, his adorable 2 year old son. From that day until now with admiration we have witnessed this young man's commitment as a father. Every morning we see him passing through our window showing the wonders of this world to Phoenix. At night, when Phoenix sleeps protected by his grandparents, Garnet goes to school.

Therefore, it was with admiration for this new generation of good citizens that we all voted in favor of Garnet sharing the leadership of our society. We know that him and all the other young members among us can lead the torch of our foundation into the future. They can all be VOICE OF ANIMALS and fight for them as we do, like a dog with a bone.

The future belongs to them and as Khalin Gibran very well said: we need to be happy to be "...the bows from which children as living arrows are sent forth."

http://www.katsandogz.com/onchildren.html
---
SECRETARY
Lori Adler
Info coming soon
---