PET FOOD BANK & FERAL CAT REHABILITATION CENTER
Our mandate is to prevent the abandonment of animals by helping their owners with food and other needs the pets may have. You can now help us achieve this goal by donating an item from our

PLACES WHERE YOU CAN DROP PET FOOD & OTHER SUPPLIES.
1. 2387 French Road North. in Sooke.
Cat and dog food.
Empty cans to cover for the gas to do ur rescues and to deliver and pick-up pet food. We usually travel long distances.
Gift certificates from pet shops, supermarkets amd gas stations.
3. Wiskers & Waggs Pet Store, in Sooke.
4.Village Foods Market:O the left hand side of the store you will find one of our bins with cats and dogs images.
In VICTORIA:

1. Mr. Pet's has a bin in their store and a coin collect box, Tillicum Mall.
2. Paws on Cook Pet Store has a bin in the store. 359 Cook St, Victoria.
3. The Wholesome hound has a bin and a coin collection box in the store. 110-694 Goldstream Avenue, Langford.
DIFFERENT WAYS YOU CAN HELP
SEND US A DONATION
Cheques: to SAFARS.org
2387 French Road North, British Columbia V9Z 0M5 Canada.
Interact e-transfer to:
safars.org@hotmail.com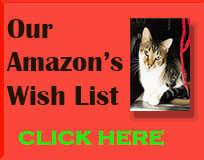 You can all us at 778-352-2999

SAFARS

.com@hotmail.com